What Is ZO® SKIN HEALTH?
ZO® Skin Health is a skincare line created by Dr. Obagi, formulated for all patients, with products focused on creating and maintaining healthy skin based on science.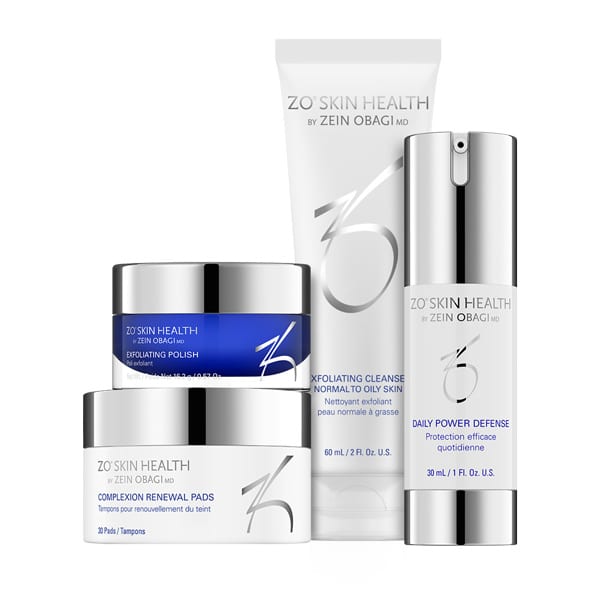 Who Is A Candidate to Use ZO® SKIN HEALTH?
ZO Skin Health has a wide range of products for patients of all ages and skin types to benefit from. Whether you are struggling with skin texture, acne, or aged skin, there is a product for you!
Step 1: Get Skin Ready
**All of the products under Step 1 can be purchased individually in a travel-sized bundle as the Getting Skin Ready Skin Kit for
$60

**
Gentle Cleanser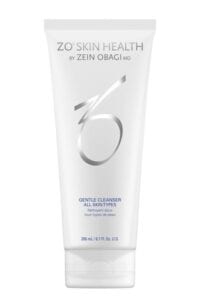 This gentle foaming cleanser effectively removes debris, oil, and makeup from your face. The cleanser provides antioxidant and anti-irritant benefits while also replenishing hydration to the skin.
• For all skin types
• AM & PM
• $45 + tax
Exfoliating Polish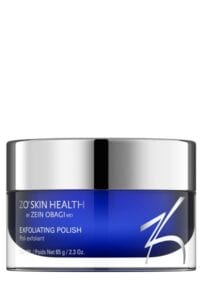 This gentle exfoliating product smooths skin texture with its ultra-fine magnesium oxide crystals. It also prevents clogging pores with tea tree oil that dissolves excess oil and removes dead skin cells. Additionally, the presence of glycerin will replenish hydration while the presence of vitamin C will brighten skin.
• All skin types
• AM or PM (2-3 times per week)
• $67 + tax
Complexion Renewal Pads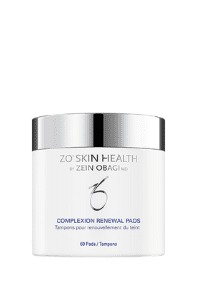 The Complexion Renewal Pads tone the skin with their pH of 3.5 and contain salicylic and glycolic acid that exfoliate dead skin cells and remove surface oils to prevent pore clogging and breakouts. Additionally, this product hydrates the skin and provides antioxidant and anti-irritant benefits.
• Normal to Oily Skin
• AM & PM
• $51 + tax
Step 2: Prevent + Correct
10% Vitamin C Self-Activating
With the presence of 10% vitamin C, ascorbic acid works to correct existing pigment while also providing brightening and anti-aging benefits. Its other ingredients prevent future pigment and provide antioxidant protection.
• AM & PM
• (travel size) $42.50 + tax
Daily Power Defense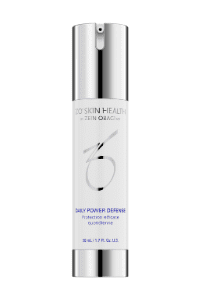 This antioxidant serum helps improve signs of aging such as fine lines, wrinkles, and dull skin. This product works to replenish lipids to optimize the skin barrier function and boost the production of collagen and hyaluronic acid.
• PM
• (travel size) $95 + tax
Wrinkle & Texture Repair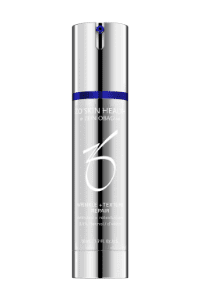 This highly potent 0.5% retinol product addresses signs of aging such as wrinkles, sagging, and uneven skin tone and texture. The presence of ingredients such as ZCORE® and ZPRO® work together with the skin to naturally regenerate collagen and elastin.
• PM
• $145 + tax
Brightalive Skin Brightener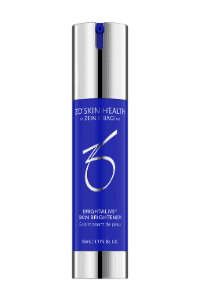 This gentle, non-retinol skin brightener improves skin tone and lessens milder hyperpigmentation. Its skin brightening complex both brightens skin and prevents the formation of new pigment with ingredients that remove dead skin cells and help purge existing pigmentation. It's perfect to use while you are pregnant or planning to have kids!
• AM & PM
• $120 + tax
Refissa - Tretinoin Cream 0.05%
This tretinoin cream is ideal in treating deep lines and wrinkles, hyperpigmentation, and texture repair. From aging skin, sun damage, texture, and diseased skin, Refissa actively treats and prevents future damage while preventing dryness and restoring hydration to support a healthy skin barrier.
• PM
• $70 + tax
Pigment Control + Blending Creme
(4% HQ - RX)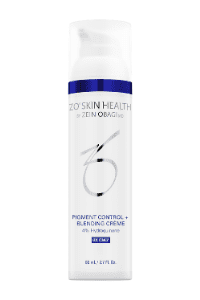 This product is formulated to be used with retinoids (tretinoin), which is used to treat present and future pigmentation. This hydrating creme contains 4% hydroquinone and helps even skin tone, calm the skin, and optimizes the delivery of retinoids.
• Brightening
• PM
• $64 + tax
Pigment Control + Brightening Creme
(4% HQ - RX)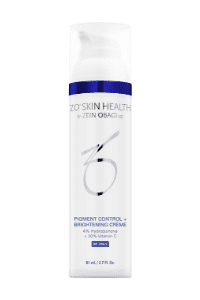 This product contains (4%) hydroquinone and 20% vitamin C to provide maximum treatment to areas of acute hyperpigmentation such as freckles, age spots, melasma, etc. It helps brighten skin and evens skin tone.
• Brightening
• PM
• $125 + tax
Sunscreen + Primer Broad Spectrum SPF 30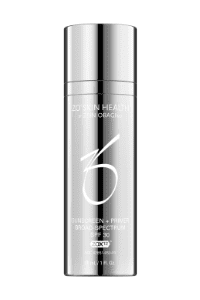 ZO® Triple-Spectrum Protection provides maximum sun protection against UVA, UVB, HEV, and IR-A exposure. This product also doubles as a makeup primer with a universal tint without a white cast.
• all skin types
• $65 + tax