Home >> Services >> Face >> Upper Blepharoplasty, Orange County, CA
UPPER BLEPHAROPLASTY - Orange County, CA
What is an Upper Blepharoplasty?
An upper blepharoplasty, or upper eyelid surgery, is a surgical procedure used to remove excess skin and/or fat from the upper eyelids. Each surgery is tailored to the individual patient. Dr. Nguyen will take the time to discuss the specifics of the surgery that will benefit you most.
Who is a Good Candidate for Upper Eyelid Surgery?
Patients who are good candidates for Upper Blepharoplasty typically are healthy and have minimal to no medical problems. They should have good blood pressure control in order to minimize the risk of bleeding from the procedure.
Patients who would benefit from an Upper Blepharoplasty typically have several common characteristics. Their upper eyelids usually have extra sagging skin. Sometimes the skin may be so excessive that it actually sits on their eyelashes. It can also block their vision, making it harder to do activities like driving. Occasional patients will also have extra fat that needs to be removed.

Excess eyelid skin sitting on the lashes.
How Do I Prepare for an Upper Blepharoplasty?
Because Upper Eyelid Surgery is usually done under local anesthesia, you will not typically need to get lab work or clearance from your primary care doctor. However, your blood pressure should be well controlled prior to surgery in order to minimize complications!
We may ask you to cleanse your face with an antiseptic wash for several days prior to surgery. Any jewelry on the head or neck region should be removed. Smokers are asked to quit 6 weeks prior to surgery until 6 weeks after surgery.
What is Involved in an Upper Blepharoplasty?
You will usually be awake for an Upper Blepharoplasty unless you are combining it with another procedure, such as a Facelift. Numbing medication is injected to the eyelids to help with pain and to minimize bleeding. You will feel a small poke, but the rest of the procedure will be painless and comfortable.
An incision is made in the eyelid and the skin is removed. A small sliver of muscle is also removed to help prevent bulkiness in the eyelid afterwards. If needed, a small amount of fat will be removed from deeper within the orbit. The incision is then closed with a permanent suture. The ends of the suture will usually be left hanging out and will be taped to your forehead for 1 week. The incisions typically remain well hidden within your normal upper eyelid crease.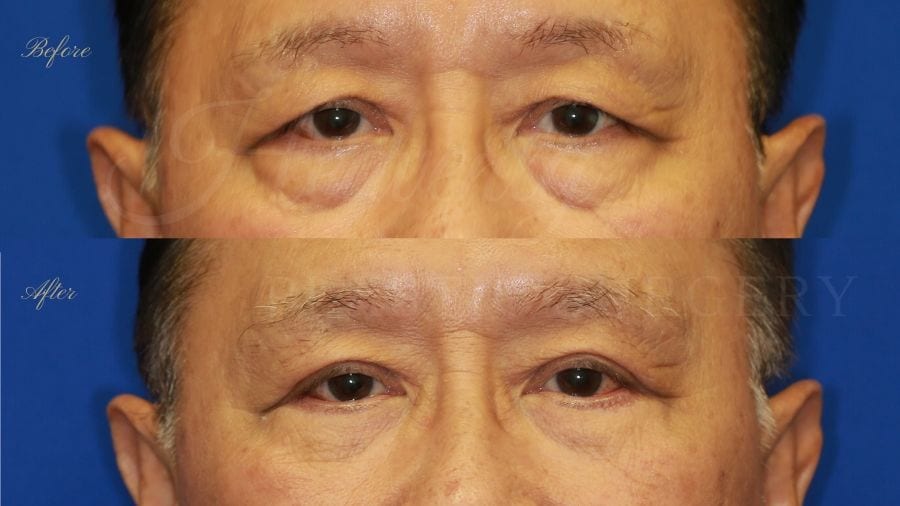 Before & After of Upper and Lower Blepharoplasty
What is the Recovery from Upper Eyelid Surgery?
Patients will go home the same day after a blepharoplasty. You are asked to sleep in a recliner or with the head of the bed elevated on 2-3 pillows for 1-2 weeks to help with swelling. You will be given a prescription for eyedrops and ophthalmic ointment to help prevent dryness. The permanent suture is removed in clinic at 7 days after surgery.
Patients may complain of soreness for several days. Swelling and bruising are typically present for 1-2 weeks, during which time you may opt not to go to public events. After 2-3 weeks, most of the swelling will not be noticeable by other people. However, you may still notice it yourself. Full healing should occur by 6 weeks after surgery.
You may drive the following day as long as there are no issues with your vision. You should not drive until 24 hours after your last dose of narcotics.
To access full postoperative instructions, please click here.
What are the Risks of an Upper Blepharoplasty?
Risks from a blepharoplasty include bleeding and infection. Infection is very rare; patients are given an antibiotic after surgery to help prevent them. Bleeding risk is higher in patients who have blood pressure issues or who do not adhere to recommended post-op instructions.
Operating around the eye, there is a theoretical possibility of damage to the eye that can lead to blindness - this would be exceedingly rare. It is important not to smoke or be around smokers before surgery or during the healing process as it may increase the risk of poor wound healing, yielding a poor overall result.
Risks can be minimized by adhering very closely to the prescribed postoperative instructions as given by your surgeon.
What Can I Expect from an Upper Blepharoplasty?
Upper Blepharoplasty adds a subtle change that makes you look more refreshed and vibrant. Many patients say that they look and feel younger without all of the extra skin over their eyes. If the skin was blocking their vision beforehand, patients will also mention that their vision has improved after surgery.
Results can be improved with the addition of skincare products for your eyes, including many products from our ZO Skin Health line such as the Wrinkle & Texture Repair.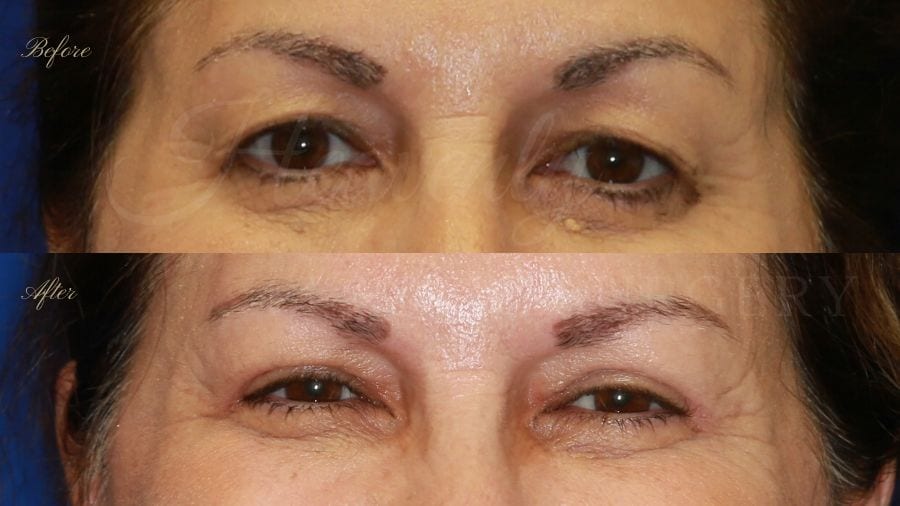 Before & After of Upper Blepharoplasty
Always be sure to consult with a Board Eligible or a Board Certified Plastic Surgeon to determine if getting an Upper Blepharoplasty is right for you! Dr. David Nguyen would be happy to see you in consultation to walk you through the process and discuss your results. Call 657-900-5055 for a free consultation today!
---
For pricing, please contact our office directly at (657) 900-5055.
See More Face Before & After Photos
---