Home >> Services >> Breast >> Breast Augmentation, Orange County, CA
BREAST AUGMENTATION - Orange County, CA
You could be considering a breast augmentation for many reasons. Perhaps you feel like your breasts are not proportional to your body. Maybe they were stretched and lost volume after breastfeeding or pregnancy. Some women even feel like they were always asymmetric. Dr. Nguyen can discuss all of these concerns with you in helping you prepare for your breast surgery.
Our practice strongly believes that you should consider breast augmentation primarily for yourself. You may want to invite the opinions of friends and significant others, but the ultimate decision should be yours alone.
Once you've decided to move ahead with getting breast implants, Dr. Nguyen will discuss all of the different options with you at the consultation so that you can make the best decision for yourself. Schedule your complimentary breast augmentation / implant consultation with us today!
---
What is a Breast Augmentation?
Breast Augmentation (or augmentation mammaplasty) is a surgical procedure in which breast implants are placed to increase breast size. Often, any asymmetries in breast shape and size will also be addressed as well. Patients who typically get breast augmentation are those who have small breasts and would like larger breasts. Patients are also often mothers who lost breast volume during pregnancy or weight loss and desire improved breast volume and shape.
Breast size can also be increased with fat grafting, although this is usually only used in addition to implants. Breast augmentation cannot replace a Mastopexy (or Breast Lift), which lifts sagging breasts back into the correct position.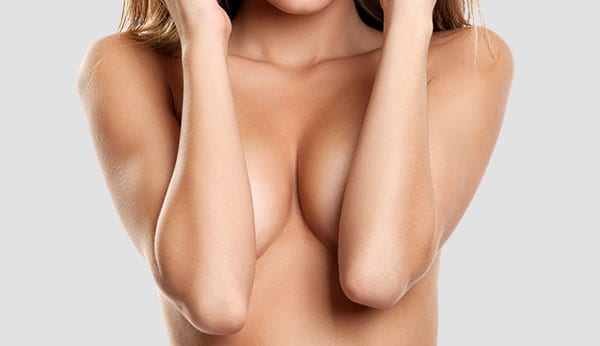 What Type of Breast Implants Should I Get?
Silicone implants (gummy implants) are the most common implant types used in breast augmentation. Saline implants can also be used, although they are much less common today. Silicone implants tend to feel more natural than saline implants, and they tend to have less rippling. Additionally, Saline implants may occasionally rupture. Luckily, saline is absorbed into the body, but the breast becomes flat, requiring another surgery to fix it. However, silicone implants can rupture outside the capsule (extracapsular rupture). This may lead to silicone filler leaking into the breast tissue, potentially leading to nodules or swollen lymph nodes. This is now much more rare since the introduction of newer cohesive (or "gummy") breast implants, which are much less prone to leaking when ruptured.
Other characteristics of implants include round versus anatomic ("gummy bear"), smooth versus textured. We do not use textured implants in our practice due to their association with BIA-ALCL (Breast Implant Associated Anaplastic Large Cell Lymphoma). We value patient safety above all things when performing a breast augmentation, so we currently use only smooth breast implants.

How is a Breast Augmentation Performed?
Dr. Nguyen typically places the breast implants underneath the chest muscle. On occasion, they can be placed underneath the breast tissue only. The procedure takes about 1 hour and is performed under general anesthesia.
Dr. Nguyen hides the incisions either in the fold or crease underneath the breast (usually 4-5 cm long) or along the areola margin. This helps to minimize any appearance of scars. The breast and pectoralis muscle are elevated, a pocket is created, and the implants are placed.
There are advantages to placing the implant behind the pectoralis muscle. First, there is a lower risk of capsular contracture, or thickening of the capsule surrounding the implant). Second, the implant is less likely to interfere with mammograms. One disadvantage includes a slightly longer recovery time. Patient who have breast implants placed beneath the breast tissue can only move their arms. Implants placed over the muscle can also help correct sagging (or ptosis) of the breasts.
---
Actual Patient Review
I am beyond pleased with the results of my breast augmentation surgery. Dr. Nguyen was very helpful from beginning to end, even now. I had my surgery in February [2018]. He answered all my questions and concerns. He is very knowledgeable and caring. I would highly recommend Dr. Nguyen. I have had a couple friends [go] to him already and are just as happy with their results. Thank you so much Doctor!
-Blanca M.
---
Would a Breast Augmentation be the Right Thing for Me?
Body image affects how many women feel about themselves. If you've ever felt that the size of your breasts did not match your body, you may have become self-conscious while wearing a bikini or during sexual intimacy. From size to asymmetric breasts, concentrating on the way your body looks can be emotionally taxing.
The choice to have a breast augmentation performed is a very personal decision. However, it often makes patients feel like their "life has been changed" for the better.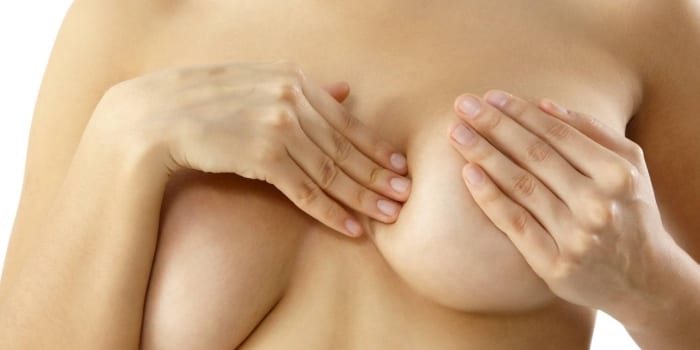 What Size Breast Implants Should I Get? What Shape Implants Should I Get?
You'll eventually need to choose the breast implant size. Unlike bras, they aren't sized by band or cup size, but rather by the volume of silicone or saline filling used. We measure this in cc's (or cubic centimeters). Dr. Nguyen will help you determine the size and shape of implants that fit your goals best, but you may also be asked to perform a simulation test at home as well. We generally advise patients to go with a natural and proportional look, but the final decision is always yours to make.
Our practice typically uses round implants. "Gummy bear" or tear-shaped implants are reserved for specific situations since they have a risk of rotating after being placed under the breast tissue. An implant's profile describes how projecting it is, with higher profile implants having a smaller base and more outward projection.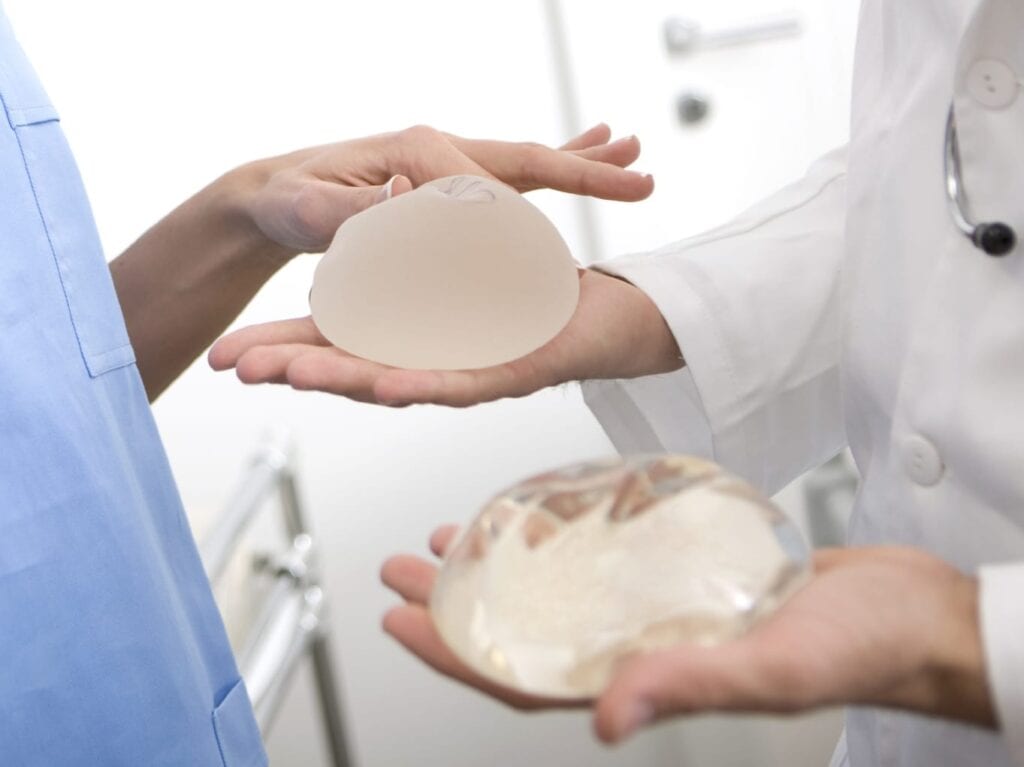 How is My Recovery After a Breast Augmentation Surgery?
After an augmentation mammaplasty, the incisions are sutured closed, covered with surgical tape, and bandaged. Surgical bras or breast binders are placed over the dressings to help reduce swelling and to support the breast shape. Patients will feel sore for several days after surgery, but most return to work after a few days. Stitches are dissolvable and do not need to be removed. Pain and swelling after surgery will decrease over a few weeks while scars will fade over several months to a year.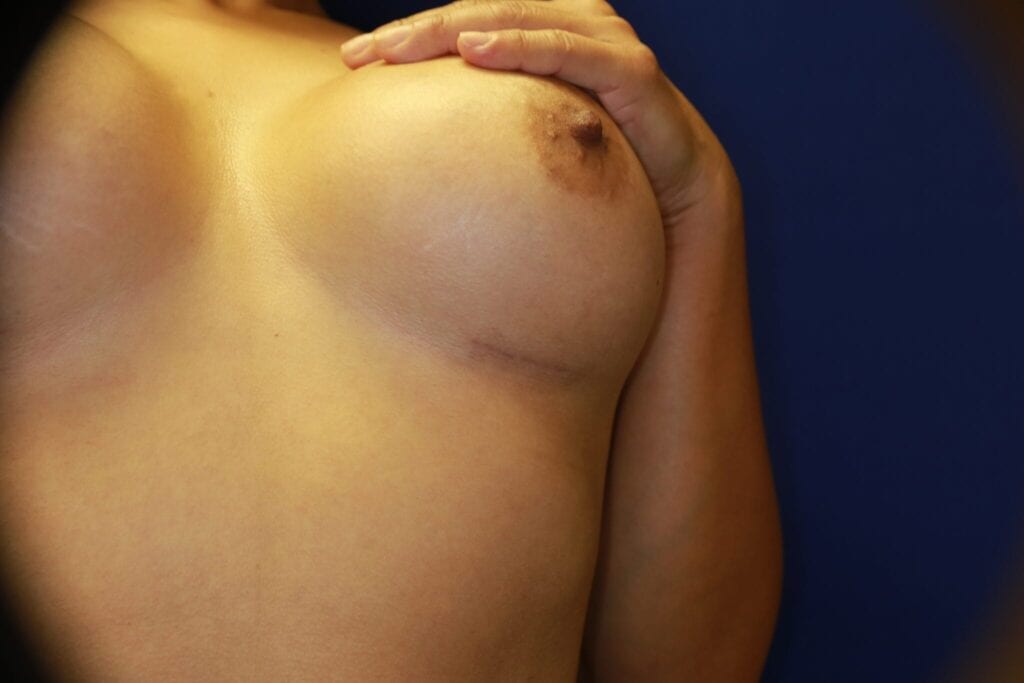 To access full postoperative instructions, please click here.
Are There Any Risks Associated with Breast Augmentations?
There are always risks associated with surgery and anesthesia, and the anesthesiologist will discuss these with you. Every effort is made to minimize them. Risks related to breast augmentation with implants include:
Bleeding
Capsular contracture
Infection
Implant leak and rupture
Implant deflation, rotation (for anatomic shaped ones), or malposition
Temporary or possibly permanent changes in nipple or breast sensation
Breast contour or shape irregularities
Asymmetry
Partial / complete loss of nipple and areola
How Long Can I Keep My Implants In?
Almost all patients will require an implant exchange/replacement surgery in their lifetime, and a large portion of them will need more. Implants are generally expected to last around 10 years, although many do last longer. At the end of its lifespan, the implant will likely rupture and need to be replaced. The exchange/replacement surgery usually requires less recovery time than the initial surgery. Incisions will generally be made using the original ones, but occasionally a breast lift (or mastopexy) may be needed at the same time.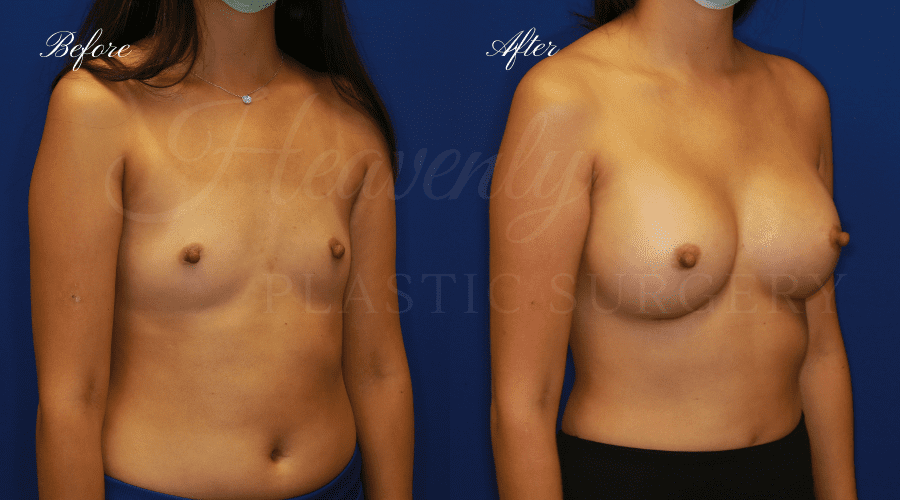 Schedule your complimentary consultation with Dr. Nguyen to discuss your breast augmentation today! We look forward to meeting you!
---
Breast Augmentation Cost: Starts at $8,500 $7,000 (Limited Time Only!)
Breast Implants with Lift Cost: Starts at $10,750 $9,250 (Limited Time Only!)
Prices includes anesthesia fees, surgery center fees, implant fees, surgeon's fees, and follow-up fees.
See More Breast Augmentation Before & After Photos
or Check Out the Breast Surgery Before & After Gallery
---