Home >> Services >> Face >> Fillers, Orange County, CA
FILLERS - Orange County, CA
What Are Fillers?
Fillers are any type of material used to "fill" tissue in order to help restore volume lost from aging or to help reduce the depth of lines, wrinkles, and folds on the face.
Our practice specifically uses the Juvederm line of fillers from Allergan, including Juvederm Voluma XC, Juvederm Vollure XC, and Juvederm Volbella XC. The filler material in this line is hyaluronic acid, which is a normal component of the human body. We believe this helps to give the most natural results.
How do Fillers Work?
Certain areas of the face will tend to lose volume as you age. Fillers do exactly as the name implies by "filling" the missing volume from these areas to help restore a youthful look. This can be especially helpful in the upper cheeks, tear troughs, and lips.
In other areas such as the nasolabial folds (as known as the "smile lines"), creases are formed not because of volume loss with aging, but because the cheek tissue sags downwards and creates those folds. Fillers can help here by blending the transition between the cheeks and the perioral area/lips, smoothing out those lines.

Where Can I Put Fillers?
Fillers have many different properties that make specific ones ideal for creating results in different areas of the body.
Juvederm Volbella XC comes in a full syringe (1.0cc) or a half syringe (0.55cc) and can be used to help add volume and contour to the lips. Patients love that it can create more of a pout when injected on the edge of the lips. Patients looking for a subtle change will opt for getting only the half syringe whereas patients with very thin lips may get up to two syringes total.
Juvederm Vollure XC only comes as a full syringe (1.0cc) and is the most versatile filler of this line. It can occasionally be used in the lips, but it will typically be used to improve the nasolabial folds (smile lines) as well as the tear troughs (the hollowed area just underneath the eyes). Juvederm Vollure XC can also be used for treatment of glabella furrows and forehead lines.
Juvederm Voluma XC only comes as a full syringe (1.0cc) and provides the most volume restoration to the face. The cheek bones usually become deflated and sag as we age. Juvederm Voluma XC can be injected into the cheek bone area to help restore volume and provide a subtle lift to the cheeks tissues. Filling this area also helps to create a more youthful "V"-shaped face with wider cheek bones and a slimmer jaw.
Who is a Candidate to Get Fillers?
Patients will typically be candidates to get filler treatment if they have deep under eye lines or "dark circles under the eyes" (aka "tear troughs"), sagging cheeks (referred to as "malar depression"), or deep smile lines (aka "nasolabial folds"). They may also be candidates if they have deflated lips or even if they are younger patients who desire fuller, more voluminous lips.
What Does The Procedure Involve?
We will typically use topical numbing cream, ice, and a beauty bar/vibrator that can help to reduce the pain from the injections. A very small and fine needle is used for the injection to help minimize pain as well. Injections usually take less than 5 minutes total, but set aside 45 minutes total to be able to sign consents and let the numbing medication kick in.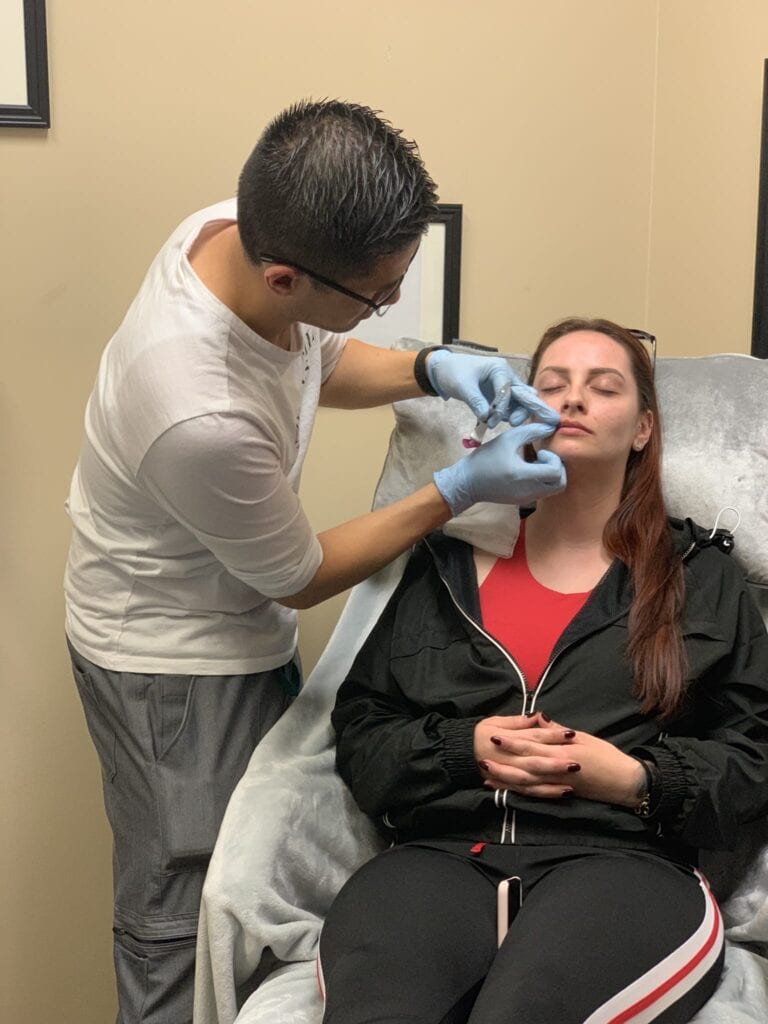 How Many Syringes of Filler Do I Need?
Most patients will not require more than 1 syringe of filler in any particular area, but Dr. Nguyen will examine you and discuss how much filler is needed to obtain the results you would like. One syringe can surprisingly go a long way! However, 2 syringes is not uncommon, but 3 syringes in one area is rare.
When Do I See Results From Filler Injections?
Results are immediate! The great thing about fillers is that the result can be seen right away. Patients will have some swelling initially from the injections, which typically improves over several days to a week.
Results last depending on the type of filler used. Juvederm Volbella will last anywhere from 9-12 months. Juvederm Vollure will last 12-15 months. Juvederm Voluma will last 18-24 months.
What Are the Risks and Side Effects?
Usual side effects of the injection itself include pain, swelling, redness/inflammation, bleeding or bruising, and headache. Patients should refrain from strenuous activity for at least 4 hours after the injections. Risks may also include incomplete correction of deformities and subtle asymmetries.
Hyaluronic acid fillers like the Juvederm line all eventually completely dissolve. This is encouraging for many patients because if they are worried about any poor results, they will all eventually resolve on their own!
As with all procedures, the skill and experience of your injector is paramount, so it is important to know their training and background prior to having any work done. Call (657) 900-5055 to book your appointment today!
---
Revanesse Filler Cost:
Versa: $600 $500 per full syringe with our nurse injector, Lorissa
 $700 $600 with Dr. Nguyen
Juvederm Filler Cost:
Voluma: $900 $700 per full syringe
---
**In order to make an appointment with Dr. Nguyen for filler and Botox, there is a $100 deposit that is required. The $100 will go towards any procedure that you choose to do at our office. This deposit is non-refundable should you cancel or reschedule 48 hours or less prior to your appointment.**
---
See More Before & After Filler Photos
---