Home >> Services >> Breast >> Breast Lift, Orange County, CA
Breast Lift - Orange County, CA
What Is A Mastopexy (or Breast Lift Without Implants)?
Breast Lift (also formally known as a Mastopexy or colloquially as a Boob Lift) is a surgery that lifts and improves the contour of sagging breasts. Breast sagging can be caused by pregnancy, weight loss (repeated fluctuations), aging, and gravity. The procedure is performed by removing excess sagging skin, then tightening the supporting tissue in order to position the breast higher onto the chest wall and make it firmer to touch. Additionally, the areola and nipple are repositioned and resized to create a more aesthetic appearance. Mastopexies do not typically change the breast's size. However, the breast may appear slightly smaller because of its new positioning on the chest. It can often be combined with a breast augmentation (augmentation mammoplasty) or a breast reduction (reduction mammoplasty).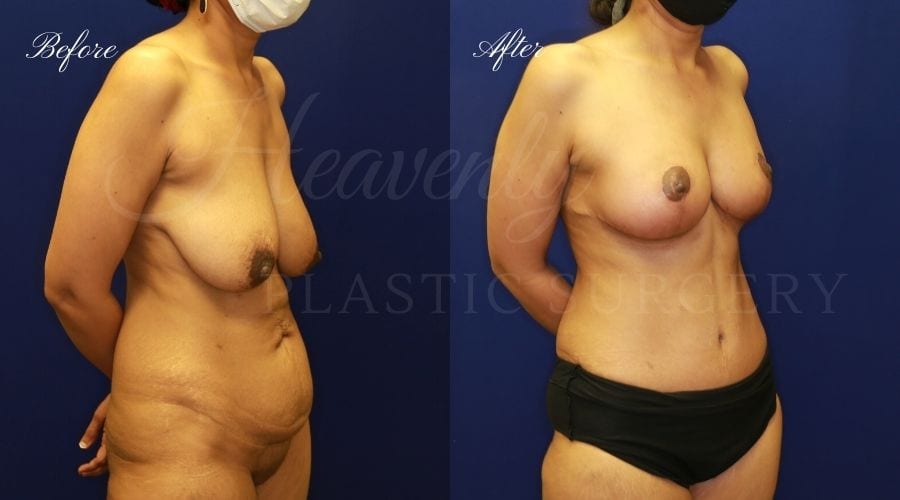 Who Is A Candidate For A Breast Lift (Mastopexy)?
Candidates being evaluated for a breast lift without implants should be in good health, maintain the lowest possible stable weight prior to surgery, and have realistic expectations regarding what a breast lift can actually do. Women undergoing a mastopexy should be looking to treat the following:
Breasts with loss of volume or shape
Sagging breasts
Flat/elongated breasts due to weight loss
Downward pointing nipples or areolas
Asymmetric breasts (one lower or more lateral than the opposite side)
Anyone planning (more) babies should be cautious about undergoing a mastopexy procedure because pregnancy / breastfeeding can cause or worsen sagging again.
What Is Involved In A Breast Lift / Mastopexy?
A breast lift without implants is an outpatient procedure done under general anesthesia. It typically takes 2 to 4 hours. The following incision types are often used (depending on the breast contour and volume, amount of sagging, and degree of excess skin):
Periareolar "donut" (two rings around the nipple and areola)
A "lollipop" shape (a ring around the nipple and areola with a vertical line down towards the lower breast fold)
An anchor incision (a "lollipop" shape with an additional incision running along the lower breast crease)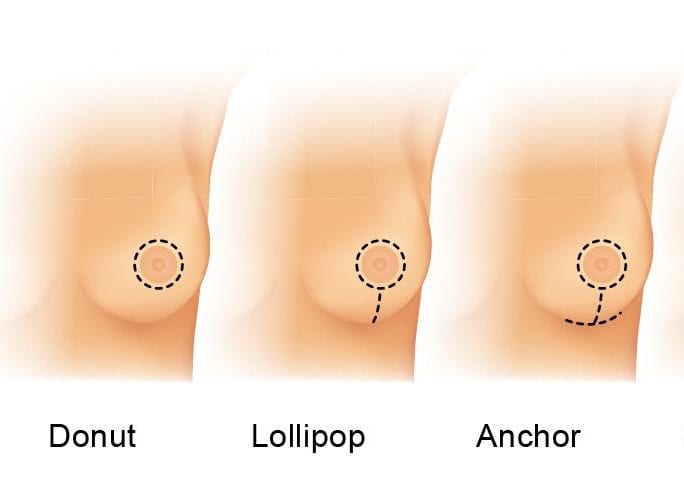 These incisions involve a progressively larger scar. Breasts with more sagging will require a larger incision pattern, which will leave more scars.
The breast skin and fat is then removed and/or reshaped to create the ideal breast contour. We usually move the nipple and areola to a higher position on the breast and resize it if needed. Sagging skin is then removed and the remaining skin is tightened to give a more defined look. The incisions are then closed with dissolvable stitches.
What Is The Recovery Time After A Breast Lift / Mastopexy?
For a few days following the breast lift procedure, patients are likely to have bruising and swelling. Many are sore for about 1 week, although this can vary. Dressings are usually kept in place inside a surgical bra for about one week. A support bra is then used for an additional month. There are no stitches that need to be removed (all are dissolvable).
Most patients can return to work after one or two weeks. No exercise or strenuous activity should be performed until cleared by your surgeon around 4 weeks postop.
To access full postoperative instructions, please click here.
What Are The Results Of Getting a Breast Lift Without Implants?
Breast lift procedures provide immediate results. The breasts will continue to improve in appearance over the course of 3 months as the swelling decreases and the scars fade. The breasts will still age over time, but the results are usually fairly long-lasting. Most patients will report high satisfaction levels.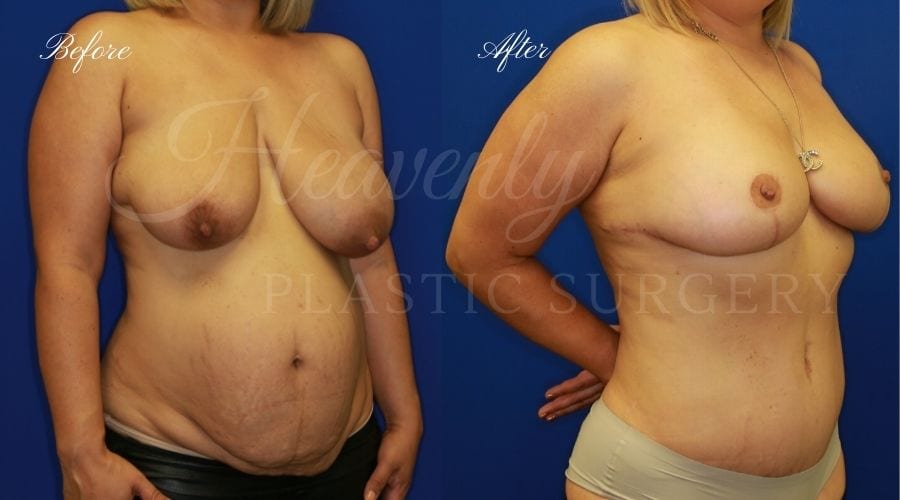 What Are The Risks Involved In A Breast Lift Without Implants?
There are always risks associated with surgery and anesthesia, and the anesthesiologist will discuss these with you. Every effort is made to minimize them. Risks related to mastopexy include:
Temporary or permanent change in nipple or breast sensation
Asymmetry in breast shape
Irregularities in breast contour
Partial or total loss of nipple/areola (rare)
Almost all breast lift techniques will produce visible scars. Many of these will be concealed within the natural crease of the breast. Others, though visible, will usually fade over time and become less apparent. The risk of poor scarring may be increased with a higher weight/BMI at the time of surgery.
---
Breast Lift Without Implants Cost: Starts at $8,950 $7,450 (Limited Time Only!)
Breast Lift with Implants Cost: Starts at $10,750 $9,250 (Limited Time Only!)
Prices include anesthesia fees, surgery center fees, implant fees, surgeon's fees, and follow-up fees.
See More Breast Lift Before & After Photos
---